Shopping Cart
Your Cart is Empty
There was an error with PayPal
Click here to try again
Thank you for your business!
You should be receiving an order confirmation from Paypal shortly.
Exit Shopping Cart
| | |
| --- | --- |
| Posted on July 26, 2016 at 9:20 PM | |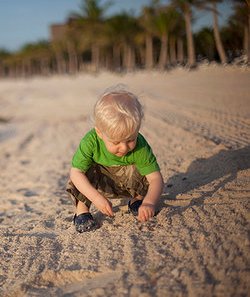 I was recently at the beach on a warm cloudy day, relaxing and reading. Very soon after sitting down my attention was drawn to a young boy of perhaps 18 months of age who stood knee-deep in the water holding a large bucket in his right hand. I began observing his movements and watched as he dipped his bucket into the water, then turned slowly, moving his feet over the small stones beneath him. Once reaching the beach, he continued to a place and upturned his bucket. Some water spilled out, some remained in, but he did not seem to care. He turned and walked back to the water, first standing with the stones beneath his feet, seeming to feel each one as he gained his balance to continue forward.
Again he dipped his bucket into the water and turned, heading towards sand. Emptied the water in the same spot, and returned to his work, which took much effort since the bucket was large and the weight of the water inside added more. He traveled this journey at least ten times when suddenly an adult pushed a large shovel into his other hand. This shovel was at least twice his size, and he barely glanced at it. But he did stop for a moment, seeming to feel the weight of two things in his hands, and settled into a new balance in his body. He then seemed to consider something and dipped the shovel into the water, then lifted it up to set inside the bucket. He peered in, perhaps seeing if any water had come off of the shovel. But it did not seem to be the right tool for gathering water.
Yet he continued, bucket in one hand, shovel in the other. Back and forth to the water; walking slowly, dipping, turning, returning to the sand and emptying the water in the same place. This was now a bit tricky with the shovel in the other hand, but he didn't seem to notice. He was at work, immersed on his path which reminded me of watching someone walking a labyrinth. The focus on his feet moving, the process leading towards center, then back again.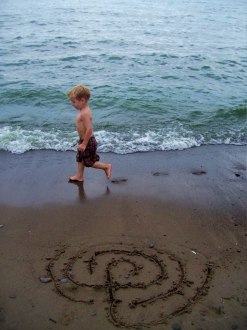 And suddenly something new happened. One of the adults in his family hurried towards him and pulled the bucket out of his hand, while he was just entering the water.
She said, "It's time to go, let go of this bucket and come." He stood there, knee-deep in water, then very slowly he touched her body with the shovel.
She said, "Why are you being mean?"
He marched away from the water to a place on the sand and knelt down, lifting his face to the sky. The look he had was of resignation, of despair. He flung himself face down onto the sand. I imagined a cry might follow, but instead he made a new discovery. Where he fell was a perfect spot for his body since a hole was perfectly placed beneath his face, and he peered down inside. I watched his head, just visible beneath the contours of this hole and imagined what he felt. The sand beneath his body, the way sounds might resonate with his head submerged, and wondered what he was seeing. After a moment he surfaced holding a small stone between two fingers. He held it up to look closely, moving it this way and that in the sun's reflection. Then he placed it down beside him on the sand and dipped his face back into the hole. Once again moments went by until he surfaced with another stone, studied it, then placed it beside this other one. Again he flattened himself onto the sand, and this time he took longer. Once he emerged he held between his fingers small pieces of sand, perhaps two. He rolled them between his fingers, closing his eyes. And set them aside with the others, but a bit away from the stones. This process continued for some time. Until there was, once again, an interruption.
"What are you doing! That is dirty, look at you covered in sand.
Get out of there! Now we have to clean you up!"
He was pulled to the water, frantically rinsed off, and he just stood there, stunned. His mother then said, "We are leaving. Come on. Bye, bye we are leaving you. Mommy loves you." He glanced towards her, not moving. His family walked away, until his mother returned voicing this same message mixed with warning and love. Finally, since he would not move someone picked him up and he began to kick and push them away. They laughed. Throughout my observation I kept thinking about Maria Montessori and her deep understanding of children, and the ways in which we as adults just don't get what is happening right in front of us. At the time, two of her quotes came into my mind:
"The ideal of leaving a child on his own is easily grasped, but there are deeply rooted obstacles in an adult's mind that make it difficult to realize...even if he wishes to grant a child's desires and leave him free to touch and move objects about, he finds that he cannot resist the vague impulses within himself that lead to his dominating the child."
- Maria Montessori
And also, this
"The human hand allows the mind to reveal itself."
-Maria Montessori
Through the movements and experiences I observed in this small friend he was deeply absorbed in his natural desire to discover, which came about through his body reaching out and making contact with objects, living and nonliving. He was showing characteristics of the Sensitive Periods of Learning appropriate for his developmental age. These include:
Movement: Coordinated and controlled. Walks, carries heavy objects using Maximum effort.
Small Objects: A fixation on small objects and tiny details.
Order: Characterized by a desire for consistency and repetition and a passionate love for established routines. Children can become deeply disturbed by disorder. The environment must be carefully ordered with a place for everything and with carefully established ground rules.
Refinement of the Senses: Fascination with sensorial experiences (taste, sound, touch, weight, smell) resulting with children learning to observe and with making increasingly refined sensorial discrimination.
From my observations of the adults reacting to this child, I noticed misunderstanding and interpretation of his behaviors. In their eyes, it seemed that he was misbehaving, or acting out. I find the word misbehaving so curious to me. There is behavior......and there is what is missed. To me, that seems to be the definition, and it is a subjective one. This child was doing nothing more than experiencing himself in the world—practicing, refining, sensing.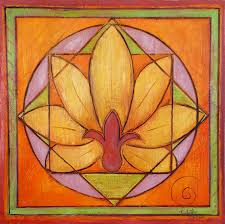 I don't feel that his parents or family were conscious of their actions, but unaware. They did not seem unkind, but caught in a habitual way of reaction. I can't help but wonder what the outcome or experience for this small boy would have been if the following steps had been practiced by his parents:
Observation: The act of taking notice of particular phenomena as they occur in the course of nature. We do not change the reality of what we are observing, even as preconceptions, judgments, or evaluations may arise in us. We develop in ourselves an objective and non-directive attitude in our relationship with our child. We begin to see our child for who they really are, separate from us.
Preparing the Environment: Wherever we are, indoors or outdoors, this is our environment. It includes everything, including us. We can have ready for our child what materials they might need that are appropriate for their size and experience. We can bring sensitivity to our language, with our words and with our bodies.
Allowing for Independence: For freedom of movement, for the child to separate from you, and to return to you as needed. Allow them to choose their own activity and to work at their own pace, for as long as they wish. They may repeat an activity until they are satisfied and complete.
Not Interrupting: Let your child concentrate without interruption. Even a word, gesture, or facial expression can distract. Any unnecessary help stops their learning. When you give space and wait, you will see how capable your children really are.
Show, don't Tell: If you want your child to see something, show him. At this age he learns through his senses, and no words are usually needed.
Making Connection: When we give a message to a child, first we wait, respecting their process. Then we can quietly go sit a bit away from where they are working, and when they turn and make eye contact with you, then you come closer and sit at their level before sharing your message. If they do not make eye contact, then enter slowly, sit at their eye level and look into their eyes before sharing your message.
Through some of these efforts, especially that of observation, I believe we can clear our vision to see our child who stands before us as full of unknown potentials, and we can discover ways to create more connection with ourselves and our child.
Categories: Teachings and Reflections
/