Shopping Cart
Your Cart is Empty
There was an error with PayPal
Click here to try again
Thank you for your business!
You should be receiving an order confirmation from Paypal shortly.
Exit Shopping Cart
| | |
| --- | --- |
| Posted on February 14, 2017 at 4:00 PM | |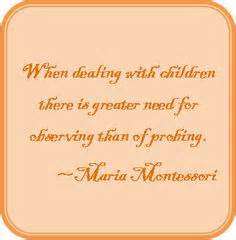 By Pamela Green
The above quote by Maria Montessori is one of my favorites, offering contemplation on the active process of observation of children. To me it speaks to the possibility and revelation that, in order to see the child before us, we must open our eyes and hearts to a multi-dimensional view of the child, while also being present to what is arising inside of us. Observation is an outward and inward movement; a state of being with ourselves, others and the environment, of which we are a part. When we observe silently, softly, holding no agenda or anticipation of what is to come or what we think might be needed, we can enter into moments which strengthen our capacity for trust, patience, understanding, feeling, and, a quality of wonder.
The next part of Maria Montessori's quote mentions the act of probing, which I find to be such an exact and rich word. If we probe at something, then I imagine an object which has become one-dimensional, one that can be affected, changed, directed, and influenced. The state of probing is not one built upon patience and trust or relationship, but is one that involves objectivity. What interests me in considering this word is the inner state of adults, when we feel the need to interrupt, direct, disturb, or probe a child's experience. What is being awakened inside that sparks and urges us to act in these ways, and what impact do these actions have upon a child? To practice observation in this context can be helpful, because it becomes obvious, to me anyway, that our need to respond may have very little to do with the child we are observing, but more to do with the observer.
What I have noticed through my own practice of observation for many years is that when I am conscious in myself I behave in certain ways, and when I am unconscious, I behave in certain other ways. As I facilitate and mentor parents who are beginning their own journey of observation and who are starting to notice their own unconscious reactions to their child, I have heard remarks such as, "I don't even know what happened. I just can't stop myself from helping. Isn't it good to step in when my child is doing something wrong?" These questions can surface during the process of observation, which sometimes partners with a difficulty in sitting silently and watching. Observation is a skill that deepens with practice, and it can bring up different states of thoughts, emotions, and feelings.
One thing I find helpful while practicing observation is to record in a journal what I am seeing, as objectively as possible, I may also have thoughts and responses rise up inside of me, and these I record as well. When I give time for self-reflection in my own life and experience my reactions and responses, I begin to see a pattern in me which is not restrictive to just the classroom environment, but one that has resonance in other parts of my life. And, these reactions usually come forth when I may be feeling something which I have little tolerance for. Through my own process of self-discovery and in observing and witnessing others in their own reactions to children, I have noticed some of these tendencies:
• Correction
• Having to verbally narrate what the child is doing
• Disrupting/disturbing the child in their process of work
• Guidance of the child, who you feel has gone off track. Whether physically or through our words
• Offering praise or punishment, (which are closely related because they have to do with US and not the child)
• Judging the work or behavior
• Asking why a child is doing something
• Telling a child how to go about a work, giving advice based on our experience
• Anticipating a certain outcome; success, failure, getting hurt, hurting, opposition
• Taking a turn away from a child by interfering….putting away work, stepping in when we think they won't do something, not offering them              space or time to complete a task. And believing they won't
• Having to have the last word
• Refusal to step into our adult position and walk away, disengage
• Arguing with a child, nagging
• The inability to see the child in front of us without agenda; to connect, open, and to receive
So, when these emotions, reactions, and sometimes even memories are awakened in us while with a child, what can we do? To keep things simple I will share a three step approach: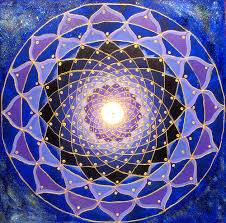 With Stop I refer to giving pause. To allow for something unknown to occur, and for the child or children, in their wisdom, to resolve what we feel needs our help. Sometimes a child is working with a material in ways that we think were not part of the lesson, but as Maria Montessori taught….once a lesson is given it is the child's right to explore this material in their own ways. Who knows what discoveries might take place that are limited by our adult's mind? As long as there is no hurting of oneself, others, or the materials, then a child is free to explore.
Stop also refers to reflecting in ourselves and to feel what is happening inside. What is surfacing, and can we sit and allow this, too, while still practicing observation? These momenst for self-reflection of what we want to do, as opposed to what will serve a child, are full of potential self-learning. While pausing we can ask ourselves, is what I am about to do needed, helpful, a way to build connection and relationship, and is it something I wish to model for this small friend?
The next step, Look, involves looking with our broadest sense, deeply at ourselves, the child, others, and the entire environment. In this way it can become a sensorial work of self-discovery. If we have already given pause, then to Look offers the information of imagining what impact our actions may have on the present experience. To consider our own motivations and the feelings behind our actions, which can be very different from the words we use.
Our last step is to Listen and this, too, involves our whole Being: our intuition, a knowing of ourselves and this child, and to hear without taking things personally. To be present in the moment, not just waiting for our time to speak and make our point, but to hear behind the child's words what feelings are there, and to be receptive in an open way.
Although these three steps may sound timely, they really can happen in moments….once we begin the practice of doing them. And in this practice we build and strengthen our abilities to have patience, build trust, and enter into moments full of possibilities, for ourselves and a child.
Categories: None
/