Shopping Cart
Your Cart is Empty
There was an error with PayPal
Click here to try again
Thank you for your business!
You should be receiving an order confirmation from Paypal shortly.
Exit Shopping Cart
| | |
| --- | --- |
| Posted on June 14, 2016 at 9:55 AM | |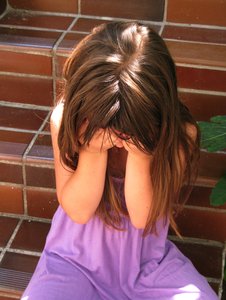 By Pamela Green
I was out walking recently in my neighborhood when two boys came racing by on their bikes, the first one shouting, "Boy, are you in trouble!" This reminded me of a time long ago when a group of 4-5 year olds in my Montessori classroom presented me with a wise and memorable lesson.
This small group was sitting intently talking, when I asked if I could join them. They said "yes", then continued their discussion, while I sat quietly and observed. The theme of their sharing was around the idea of being or getting 'in trouble'. There seemed to be a strong resonance in their group of shared experiences. I listened for awhile and then said that I was not understanding certain words they were using. Now, my young friends were used to me sometimes not knowing the meaning of things. It was not that I really didn't understand, but I claimed an innocence which allowed them to fill me in.
In this instance they looked at me again with patience and compassion. I said, "I know the word trouble, but I don't see how you can get in it. Is it someplace you go to,or does it come to you?" One of them quietly said, "She doesn't know because it doesn't happen here."
I said, "I know there is a board game with that name, I have played it." They shook their heads and continued thinking of ways to explain. At a certain point, with me still not catching on, a four year old girl blurted out in one long breath, "Being in trouble is when you break you mom's favorite blue glass vase and glass is everywhere!", and then threw her face into her hands sobbing. Everything went silent, as she continued to cry. I said, "The vase broke?" She nodded yes. I asked if anyone was hurt by the glass and she shook her head no. After another quiet moment I asked what happened next. She said that she was told, LOUDLY, to go to her room and clean it. We all sat quietly for some time, absorbing this new information.
After awhile I shared that this reminded me of something, and a boy said, "Me too! It's like the other day when I was drying my glass plate after lunch and carried it with only a few fingers.....and it dropped and broke everywhere." I said, "Yes, this is what I was thinking." I asked him what happened after the plate broke and he said that after we made sure everyone was safe and away from the glass, we worked together to clean it up. I asked him what happened next and he said, "Nothing, we just went back to work." We all sat silently again, thinking about this.
I finally turned to this young boy and said, "Well, if breaking glass puts you 'in trouble', should I have asked you to leave our room and go to another room and clean it?" We all sat thinking about this for a moment, when a five year old girl said, "That's just crazy!"
After this remark I thanked them for sharing and helping me to understand more. I just had one last question: "How do you get out of trouble?" This question was met with much quiet, heads lowered. Finally someone said, "You don't."
This conversation stayed with me for days, its lesson deepening. I could tell from my friends common agreement that they felt resigned to the fact that they could not get out of trouble. Not only that, but this could happen at anytime or place because it was a nonsensical reaction that wasn't based on anyone but the adult involved. If you don't know how you get into something, then how do you get out? 
With this in mind I became more dedicated to bringing awareness to my own motivations in my relationships with the children. I began a sifting process to discern whether my needs were being met, or those of the child's. Would the actions I take support a friend's next step and allow the child a full experience, or was it just.....crazy? Could I allow for enough space so that a child's experience was known in real ways, as a tangible journey, rather than something imposed on them without connection to circumstance or reason?
What touches me now, still, in reflecting on this conversation is that the children knew that something was not right. They knew the difference between a simple, natural next step, and one that was artificial. And it is this knowing in them that gives me hope when we as adults forget or ignore this difference. When we replace our own intolerance to feel what is rising up in us....with an intolerance of the child. We miss a moment in ourselves for self-reflection and change. What we do in the next breath can move us further towards relationship with ourselves and a child, or away.
Categories: None
/